The Scottish government has denied doing a "U-turn" on a promised ban of dog shock collars.
The SNP had said they planned to ban electric shock collars in January of this year, after a 20,000-signature petition was handed to the Scottish government.
Government guidance was published online last month, but seemed to stop short of a ban.
A spokesperson said the government position had "not changed".
The Scottish Conservatives said the SNP had "U-turned on their decision to ban electric shock collars" and claim a statement announcing the ban has been removed from the Scottish government website.
Dog welfare organisations have also criticised the measures.
'Not delivered'
The petition was originally started by Scottish Conservative MSP Maurice Golden, who called the training aids "unnecessary and harmful".
He has now asked the Scottish government to clarify their position, and once again called for a ban.
Mr Golden said: "I was delighted when the Scottish government listened to the thousands of people across Scotland and announced a ban on electric shock collars for dogs.
"We must issue guidance to ban them as soon as possible, which is why it so disappointing that the Scottish government are now backtracking on implementing this policy."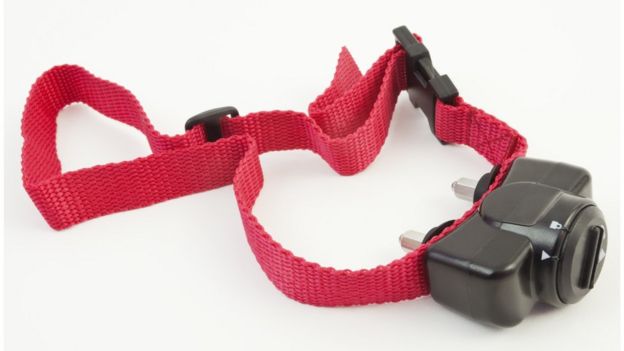 Nine dog welfare organisations, including the Scottish Kennel Club, the Battersea Dogs & Cats Home and the Dogs Trust, have also criticised the position, issuing a joint statement.
It read: "The Scottish government has not delivered on its promise of introducing an effective and prompt ban on aversive training devices in Scotland.
"We no longer believe the guidance will be used effectively to educate dog owners that using unpleasant stimuli, or physical punishment, to train a dog is not appropriate."
Rural Affairs Minister Mairi Gougeon responded to a parliamentary question on shock collars earlier this month.
Ms Gougeon said: "The use of electronic training aids is not prohibited."
She added that causing "unnecessary suffering" by using a shock collar may be an offence, "depending on the circumstance" – with intent a key consideration.
Criticism 'premature'
A Scottish government spokesperson said the claims were "wrong" and the government position had "not changed".
They said: "The principle of introducing guidance as a deterrent, and the wording of the guidance itself, was developed in consultation with the Kennel Club and a number of animal welfare organisations."
The spokesperson added: "Criticism of the guidance at this stage would appear to be premature at best.
"We fully expect our guidance on electronic collars to be of real, practical benefit to dog owners in Scotland and those involved in the enforcement of the Animal Health and Welfare (Scotland) Act 2006 on the ground."
The spokesperson also said the effectiveness of the guidance will be reviewed after 12 months, and changes considered if necessary.